After a week of the 76th Cannes Film Festival, people are still debating and critiquing the celebrities and their red carpet attire.
Salma Hayek, one of the well-known celebrities attending the festival, surprised her followers with her choice of clothing. The 56-year-old actress arrived with her 17-year boyfriend and now husband, businessman Francois-Henri Pinault.
The audience was interested in one of the premieres the couple attended. While Hayek's husband dressed in a traditional black suit and white bow tie, the actress chose a more ostentatious look.
Salma donned a form-fitting dress with puffed sleeves and a plunging neckline in a dark blackberry color.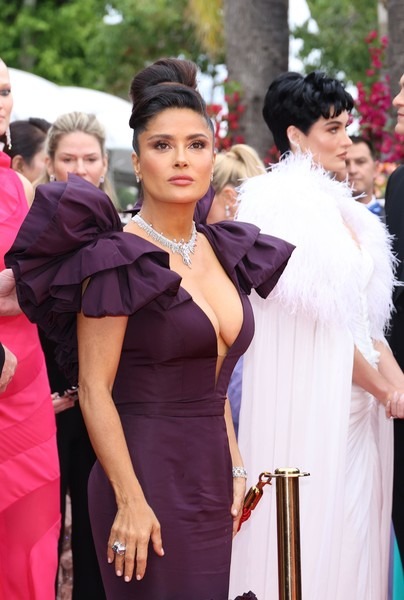 She dressed up her appearance with a diamond necklace and a tidy high bun. The neckline, sleeves, and even the necklace draw attention to her bust, indicating that the clothing was made specifically to accentuate that feature. Salma's figure was highlighted by the entire composition, which had a sensual air to it.
As can be expected, not all online opinions are positive. Even if the actress had chosen the perfect dress, some people would disagree.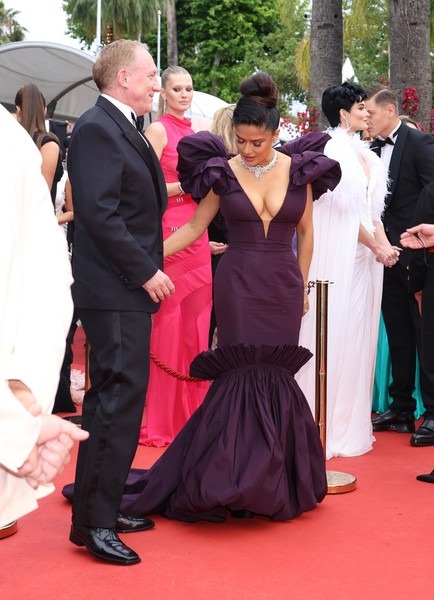 Fans are now split into two groups: the first group compliments Hayek's stunning appearance, saying that she looks better than many younger stars.
They adore her physique and aspire to have it at 56. On the other side, some people don't like the clothing since they think it's vulgar and overly revealing for someone her age. They think she ought to wear more modest clothing.
In addition, others say Salma had plastic surgery because of the way her face appears to be different.
How do you feel? Give us your opinions!